---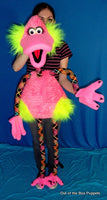 Cheeky is 35" tall from top of head to bottom of body with 31" legs. Neck strap and Legs are adjustable.  Shortest height of puppet approximately 61", tallest height 66". The legs attach to the puppeteer with elastic at ankles and bottom of feet.
Cheeky is covered in Pink Knit Fur (glows salmon pink),  pink  fleece(glows hot pink) and yellow fur.
Cheeky fits puppeteers approximately 4 1/2 ft - 5 1/2 ft.  
Please choose before adding to cart:
Option 1 - Spandex stuffed arms and pink gloves with yellow fur covered hips (shown in photos)
Option 2 - Yellow feather arms and pink gloves without fur covered hips. 
All puppets handmade when order is placed. Slight variations may occur.