---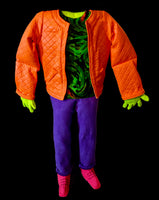 Body attaches around puppeteers neck along with strap around waist of puppeteer.  This is a human arm puppet; comes with gloves in matching skin color.  If you are using it with your own puppet head, please let us know what skin color for the neck and gloves.
 Pair with one of our

'Just A Head' puppets. 
Puppet's legs are attached to slippers that look like shoes.  Shoes, arms and body to be operated by one puppeteer while second puppeteer operates head. Fabrics colors will change depending on skin color chosen.