---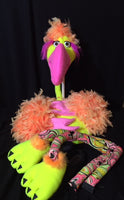 Walk About - Blacklight Flamingo Francie (Yellow) Click Here to see them in action.


Francie is a one or two person "walk about" puppet. One hand is used to operate mouth of puppet and second hand to operate one wing.  Second wing can hang freely, be pinned to body or operated by second puppeteer (glove size fits small to medium hands). Francie's feet are mounted on slippers for puppeteers feet.  The legs are attached with velcro and can be adjusted higher on the back of the body to allow a smaller puppeteer to operate her.  Neck strap is also adjustable.  Fits 5ft - 6ft tall puppeteer.
All puppets are handmade in the USA.  Slight variation may occur.