---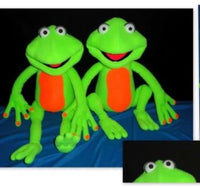 Full Body Frog is approximately 26.5" from top of head to heel of foot. Approximately 17" from head to bottom of body. Entrance back of neck.

Frog has arm and hip joints that swivel for various poses as well as snaps on the back of his legs which allows his legs to rotated into a folded sitting position.
Half Body Frog approximately 16", entrance from below. (Photo not shown)

He also comes with a black arm sleeve to help hide the puppeteers arm. 

 
Please choose body and eye style before adding to cart
Half body, Full Body
Close Together or Far Apart. 
All puppets are handmade in the USA, slight variations may occur from pictures shown . Price is for one puppet. Rods not included